92 Bar Associations and Legal Organizations for Attorneys and Law Students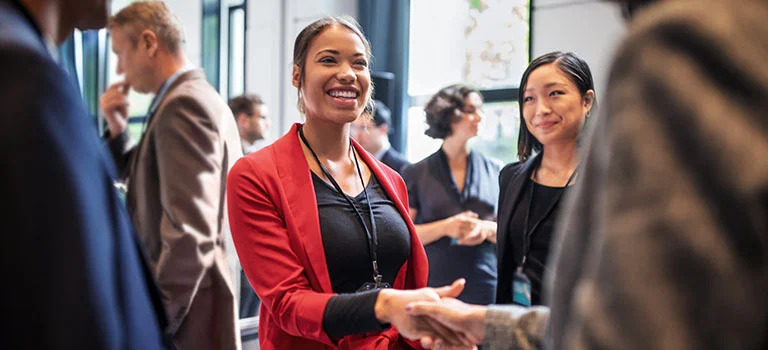 "Passing the bar" is a milestone for lawyers. After earning a Juris Doctor degree, graduates must pass a state-administered bar exam to practice as attorneys.
Those who succeed gain entry into their state's bar association, a professional organization that sets ethical standards and disciplines lawyers when necessary. In most states, membership is mandatory for practicing attorneys.
While state bar associations mark the start of a lawyer's career, voluntary bar associations such as those listed below can track their development. These legal organizations may specialize in a specific area of practice, promote the interests of a particular population or advance the legal profession generally.
The following lists of active bar associations and legal organizations can help legal students and new lawyers start building their networks and professional practices.
Why Should Students Join a Legal or Bar Association?
Besides mandatory membership in their state bar associations, lawyers may also choose to join voluntary bar associations. These are professional organizations that offer camaraderie and support to attorneys and are typically formed around a particular community, specialty area or client population. Although some of these legal associations are only open to licensed attorneys, others are open to students.
Benefits of a voluntary bar association vary by the organization, but membership may include:
Networking events: Legal associations may host in-person meetups in members' communities or virtual events, where attorneys and students throughout the organization can connect.
Opportunities to participate in pro bono work: Voluntary legal organizations can serve as a point of engagement for lawyers and legal students looking to use their expertise to serve their communities.
Chances to work with attorneys and judges outside one's own office: These voluntary groups can encourage legal professionals to collaborate on issues affecting their jurisdiction, rather than working in silos.
Community outreach: For attorneys seeking to better engage with the public, voluntary bar associations can offer forums for educating community members about the legal issues affecting them.
Possible client referrals: Some legal associations offer referral services, where their representatives connect potential clients with attorneys who have expertise in the matter at hand.
Leadership roles: Members may be able to gain leadership experience by serving on a task force, acting as a committee chair, or holding another key role in a voluntary bar association.
Access to online legal research: Some legal associations provide members free access to online research libraries and other research tools.
Sources:
Koch, Adrienne. The Case for Bar Associations: Why They Matter, ABA Journal, Feb. 4, 2019. Accessed June 2, 2021.
Membership, Bar Association of the District of Columbia. Accessed June 2, 2021.
Online Legal Research: Bars Choose With Members' Needs in Mind, American Bar Association, November–December 2006. Accessed June 2, 2021.

Jump to a particular section:
Founded in 1879, the American Bar Association (ABA) is a voluntary professional organization. Members are lawyers, law students and other legal professionals. As a national organization, the ABA accredits law schools, provides continuing legal education and works to eliminate bias and improve diversity among lawyers.
The Canadian Bar Association (CBA) serves as the national voice for 36,000 lawyers, judges, notaries, law teachers and law students across Canada. The CBA has 13 branches and offers professional development opportunities and well-being resources for lawyers, as well as public guides on topics like immigration and buying a home.
Established in 1920, the Federal Bar Association (FBA) supports lawyers in federal practice at legal firms and federal agencies, as well as members of the judiciary. The FBA provides networking opportunities, offers continuing legal education and advocates for members at the national level.
The Inter-American Bar Association (IABA) seeks to protect democratic institutions in the Americas, France and Spain by creating an exchange for sharing ideas and promoting uniformity of laws. The IABA holds an international conference each year and several regional seminars that teach attendees about the culture and cuisine of the host country.
The nation's oldest and largest national network of African American attorneys and judges, the National Bar Association (NBA) represents 65,000 lawyers, judges, law professors and law students. The NBA has 23 member sections for different specialties, including appellate law, family law and small business law.
Also called the American Arbitration Association (AAA)-International Centre for Dispute Resolution (ICDR), this organization engages former judges and legal and business leaders to settle cases through arbitration and mediation. Their efforts reduce the burden on the court system, particularly during times of disaster relief.
The American Health Law Association is a community of health lawyers and legal professionals who represent entities in the health care industry, including hospital systems, home health agencies, insurers and physicians.
This national association consists of lawyers and law professors who teach and practice immigration law. Member attorneys represent U.S. families seeking permanent residence for close family members and businesses recruiting abroad, as well as foreign students, entertainers, athletes and asylum seekers.
This organization works to create an engaged, well-informed and diverse community of professionals who promote the rights of intellectual property owners.
The Association of Attorney-Mediators (AAM) is a trade association of lawyers who serve as qualified mediators for the public. AAM's members are independent attorney-mediators who meet specific standards for training and practice experience.
As a global bar association, the Association of Corporate Counsel advances the interests of in-house counsel who work for corporations, associations and other organizations.
The Association of Federal Defense Attorneys is an online community of lawyers who practice criminal defense in federal courts. The organization's website recently migrated to an app that features blogs, discussion forums and webinars.
Founded in 1959, this nonprofit bar association promotes aviation law through a quarterly journal and continuing legal education. Members include lawyers, pilots, lawyer-pilots, law students and those generally interested in aviation.
This volunteer organization consists of professionals involved in communications and information technology law and policy. Members, including communications lawyers, engineers, consultants, economists, law students and members of the government, are given opportunities to network, socialize and learn about developments in the field.
The Federation of Defense & Corporate Counsel (FDCC) is a trade association consisting of U.S. and international civil defense litigators, senior corporate counsel and insurance claims executives.
Members of the National Academy of Elder Law Attorneys endeavor to provide better quality legal services to older adults and people with disabilities. The organization offers continuing legal education programs and advocates for public policies that support members' clients and their families.
This association seeks to improve the legal services offered to colleges and universities through supporting their attorneys with legal resources, continuing education and a professional network.
The National Association of Consumer Bankruptcy Attorneys (NACBA) works to protect the legal rights of consumer bankruptcy debtors and supports their attorneys. The NACBA files amicus briefs with the U.S. Courts of Appeal and the Supreme Court for cases affecting debtors' rights.
This association advocates for fair, rational and humane treatment for individuals in the criminal justice system through influencing policy, equipping criminal defense lawyers and redressing systemic racism.
The National Creditors Bar Association serves law firms that practice creditors rights law, foreclosure, bankruptcy and student loans, among other areas.
Members of this association are lawyers who represent employees in cases involving employment discrimination, illegal workplace harassment, wrongful termination and denial of benefits, among others.
Through education and practical assistance, the Council of School Attorneys of the National School Board Association (NSBA) supports the attorneys who represent K–12 public school districts and state school board associations.
The Black Entertainment and Sports Lawyers Association (BESLA) provides continuing legal education and professional development for lawyers in the sports and entertainment industries. A particular focus of BESLA is supporting people of color through scholarships and internship opportunities and by facilitating legal and business opportunities.
This bar association represents Hispanic legal professionals in the United States and its territories through professional development and networking opportunities. The Hispanic National Bar Association also advocates on issues affecting the Hispanic community and promotes the legal training and education of young Latinos.
This organization supports the professional development of Asian Pacific American attorneys, judges, law professors and law students. It serves as the unifying voice of around 90 national, state, and local Asian Pacific American bar associations.
This association connects law students, lawyers, law professors and law schools with legal career professionals who can guide them through every stage of their careers. It also publishes employment data, promotes ethical recruiting practices and works to create diverse legal communities.
The National Association of Legal Search Consultants provides a forum for recruiters in the legal field to discuss and develop consistent, ethical standards across firms.
This organization, formerly the Association of Trial Lawyers of America, offers support and professional connections for trial lawyers. Its mission is to promote a fair and effective justice system through competent, well-prepared attorneys.
The American Association of Law Libraries serves law librarians and information specialists. Its mission is to ensure legal information is readily accessible when needed to make well-informed arguments and sound legal decisions.
This association provides a forum for attorneys general, who counsel state government agencies and legislatures, to come up with responses to common problems. The National Association of Attorneys General also provides continuing legal education and publishes newsletters and reports.
State courts can reach out to the National Center for State Courts (NCSC) for research, expertise and counsel on how to better administer justice and plan effectively for the future. Founded at the behest of the late Chief Justice Warren E. Burger, the NCSC serves as a central, authoritative resource for these entities.
This organization provides training and representation at the national level for local and state district attorneys, the public officials acting as prosecutors for the government. Its staff conducts around 100 annual trainings and develops legal expertise in specific areas, including gun violence, juvenile justice, DNA/forensics, violence against women, child abuse, capital litigation and human trafficking.
This foundation seeks to protect American employees' right to not join a union and provides legal aid to those seeking to fight compulsory union membership.
Members of the National Organization of Bar Counsel (NOBC) work to regulate the practice of law, promoting professional conduct and administering discipline as necessary. The NOBC supports members through advocacy, research and analysis, and educational programs.
Also known as the National Conference of Commissioners on Uniform State Laws, this organization drafts state laws on topics that would benefit from uniformity among the states. Commissioners—typically state legislators, practitioners, judges and law professors—are appointed by the states, the District of Columbia, the Commonwealth of Puerto Rico and the U.S. Virgin Islands.
While the role of the state bar association varies by state, its scope typically includes administering the state bar exam, admitting attorneys to practice and regulating continuing legal education requirements in that state.
In many states, membership is required for practicing lawyers. On the following sites, find contact information for the bar association of each state and U.S. territory, an attorney search function and resources for legal professionals.
Please note that this article is for informational purposes only. Individuals should consult an authorized legal professional before following any of the information provided.