How to Prepare for the Bar Exam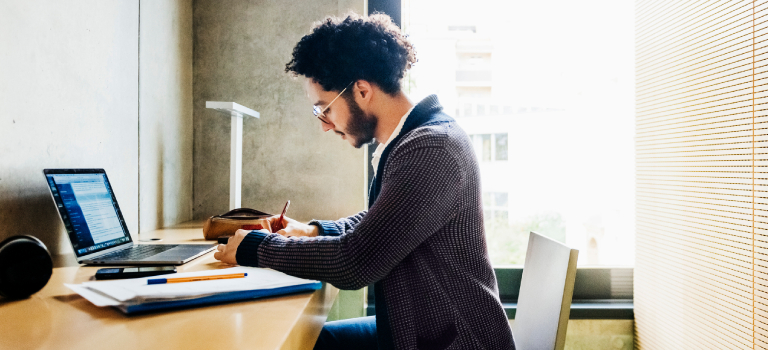 When an individual earns a Juris Doctor Degree, or J.D., on their path to becoming a lawyer, they must also sit for the bar exam to evaluate their ability to practice law in a given state. Applicants often spend months preparing for it, with 400 hours being the recommended total study time, according to The National Jurist. However, Arax Corn, an attorney and bar exam tutor based in Denver, explained that each study plan should be "individualized to the person."
Taking into account personal needs, schedule allowance and other factors, law students and recent graduates can consider these recommendations and resources when they are in the process of creating their plan to prepare for the bar exam.
What Is The Bar Exam?
In an article on bar exam basics for The Bar Examiner (PDF, 346 KB), authors Joanne E. Kane, Ph.D., and Andrew A. Mroch, Ph.D., write "passing the bar exam is intended to ensure that candidates can meet a minimum threshold of necessary knowledge and skills for entry-level legal practice."
While the overall goal of the bar exam process is to deem whether you are competent to begin practicing law, the bar examination you take may vary depending on the state in which you are located. The Uniform Bar Examination (UBE) is coordinated by the National Conference of Board Examiners, and it has been adopted by 36 states and jurisdictions in the United States.
If you are taking the UBE, the examination process includes taking the Multistate Essay Examination (MEE), completing two Multistate Performance Test (MPT) tasks and completing the Multistate Bar Examination (MBE).
How to Make a Bar Exam Study Schedule
An important first step in studying for the bar exam is to set your time line. According to a resource on preparing for the bar exam from The National Jurist, it is recommended that the average law student should study for the bar exam for about 400 hours, with 200 hours dedicated to learning the law and memorization and the other half used to focus on practice bar exam questions.
In addition to determining how long you should study for the exam, the start date for a study plan also depends on whether you are studying part or full time, Corn explained. For example, a student who has just finished law school may study full time for about two months leading up to the next available test date while someone who is balancing multiple obligations, such as a full-time job, may need to start at least three and a half months ahead of their exam date.
Once a time line has been set, Corn recommends creating a content calendar to dictate a studying schedule. To make your own calendar:

Identify the subject areas covered in the exam.

Calculate the number of days to study ahead of the test date

Divide your time between each subject area on a per-day basis
Subject areas covered in the MBE portion of the exam include seven subject areas:
Civil Procedure
Constitutional Law
Contracts
Evidence
Criminal Law and Procedure
Real Property
Torts
Areas of law that may be covered in the MEE portion of the exam include:
Business Associations
Civil Procedure
Conflict of Laws
Constitutional Law
Contracts
Criminal Law and Procedure
Evidence
Family Law
Real Property
Torts
Trusts and Estates
Article 9 (Secured Transactions) of the Uniform Commercial Code
In addition to breaking down content by subject area, it's important to split up your time between memorization and completing practice questions, according to Ashley Heidemann, owner and founder of the law school and bar exam prep company, JD Advising.
In an article on the bar exam essay for The National Jurist, Heidemann writes, "Some students make the mistake of waiting too long to memorize the law. We recommend that you start learning the law early on. That way, you will be less overwhelmed, and you will be more likely to pass the exam."
To memorize substantive law, Corn recommends using outlines and other materials from your studies to focus on knowing and being able to easily recall laws.
Once this has been mastered, you can move on to completing practice questions. This includes:
Multiple choice question drills
Practice answering multiple choice questions that match the format of the Multistate Bar Examination (MBE) portion of the bar exam.
Essay writing
Practice answering essay questions under simulated test conditions by timing yourself for the 30-minute time period allotted per question.
Study Aids and Resources to Prepare for the Bar Exam
There are a number of study aids available to law students and recent graduates who are studying for the bar exam. The following are a few examples of resources that can be used during the studying process.
National Conference of Bar Examiners (NCBE)—Study Aids
NCBE offers free sample questions for the MBE and MPRE, free questions and analyses from older administrations of the MEE, free MPT summaries from recent administrations, and MPTs and point sheets from older administrations of the MPT.
Kaplan offers preparatory courses for a variety of standardized exams, including the bar exam. Before committing to paying for an intensive course, individuals can utilize Kaplan's free bar exam resources, including a bar exam question of the day and a free MPRE review course.
Barbri is another commercial course provider for individuals who are preparing for the bar exam. The website offers an MPRE review at no cost, in addition to its paid services.
AAdaptiBar is a paid service that allows individuals to quiz themselves with authentic MBE questions, as well as video lectures, flash cards and other resources for studying.
Optimizing the Bar Exam Study Schedule and Process
Preparing for the bar exam will look different for everyone, based on learning style, time availability and other factors. Consider the following tips when formulating your own plan of action.
Find the learning style that works best for you.
For example, if you are an auditory learner, listening to recorded lectures provided through commercial study aid programs, such as Kaplan or Barbri, can be a helpful learning practice. Audio versions of study guides can also be found on a variety of audiobook platforms, such as Audible.
Engage with the content to ensure active, not passive, learning.
For example, instead of reading through an outline, transcribe the content to notecards and use them as a tool to quiz yourself.
Focus on highly tested subjects.
Toward the end of test preparation, revisit content that is highly tested for each subject area to optimize your time.
Utilize official practice questions.
By reviewing released questions from the NCBE, you will be able to see example questions in the same context and language that are used on the bar exam.
Take care of your health and manage stress.
Corn recommends using your study schedule as a tool to "work through the material methodically so that you don't become overwhelmed, and then allow yourself breaks to take care of your health as well."
FAQs About the Bar Exam
How difficult is the bar exam?
The bar exam is known to be a challenging test, as it assesses one's ability to enter the practice of law. Out of the 68,198 individuals who took the bar exam in 2018, 54% of them passed.
Can I take the bar exam without going to law school?
Four states—California, Vermont, Virginia and Washington—allow people to take the bar exam without attending law school. However, those who want to take the bar within these states usually have to complete an apprenticeship with a practicing attorney or judge. These apprentice positions provide on-the-job training under the guidance of mentors instead of studying for a law degree at a university. More information about eligibility can be found in NCBE's Comprehensive Guide to Bar Examination Requirements.
When should I take the bar exam?
Depending on the jurisdiction in which you plan to take your bar exam, the guidelines will vary. Some states require the completion of law school while others require a particular number of credits. Students can find information on when they are eligible to take the bar exam in NCBE's Comprehensive Guide to Bar Examination Requirements.
Do I need to take a course or work with a tutor to prepare for the bar exam?
Each person has individualized needs. While many law school students may choose to study on their own with the guidance of resources and materials, others may opt to take a commercial course from an online learning provider such as Kaplan or Barbri or work one-on-one with a tutor. Bar exam preparation courses and tools vary in format, so students can identify which offerings align with their learning style. Students who are struggling to learn materials, as well as those who are taking the bar exam for the second time, may also choose to seek additional help through these services.
What tools and resources are best when studying for the bar exam?
It is important to identify study materials that are of high quality and align with the content and question style of the bar exam for which you are preparing. However, Corn cautioned to not get lost in the array of materials available. "Some students become preoccupied with the materials that they're using, thinking that there is some magic bullet…It's really about just putting in the time," Corn said.
Resources to Learn More About the Bar Exam
Please note that this article is for informational purposes only.