Navigating the Legal Landscape During a Pandemic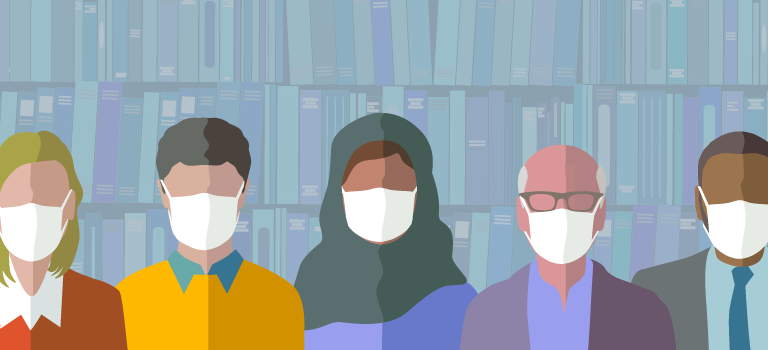 Pandemics like the novel coronavirus challenge our personal, employment, housing and family rights, and its implications will continue to touch other areas of law after the crisis passes.
"As the pandemic spreads, thousands of Americans will need help – not just with medical issues but also with legal issues including lost jobs, evictions, insurance claims, family emergencies and obtaining government benefits they need to survive," American Bar Association President Judy Perry Martinez said. "Those who come before our criminal justice system will face additional challenges as jobs are lost, the inability to pay fines and fees escalates and we face a greater risk of detentions."
Paralegals and other legal professionals can help their clients navigate the legal concerns that surround the pandemic while taking steps to better serve clients during future emergencies.
Legal Resources for Individuals During a Pandemic
Pandemics like the novel coronavirus outbreak affect a range of legal sectors. The areas below cover a few common areas in which clients may need assistance from paralegals and other legal professionals as they move through and recover from the outbreak. What is the difference between isolation, quarantine and social distancing?
"Isolation separates sick people with a quarantinable communicable disease from people who are not sick."
"Quarantine separates and restricts the movement of people who were exposed to a contagious disease to see if they become sick."
Social distancing or physical distancing means keeping space between you and people outside your home by avoiding large gatherings and staying at least six feet apart from others.
Isolation and quarantine are authorized for the following diseases, and the U.S. president can revise the list by executive order:
Cholera
Diphtheria
Infectious tuberculosis
Plague
Smallpox
Yellow fever
Viral hemorrhagic fevers
Severe acute respiratory syndromes (SARS)
Flu that can cause a pandemic
What are the roles of federal, state and local governments during a pandemic?
The responsibilities of federal, state and local governments vary during a pandemic.
"Emergency declarations allow officials at the federal, state, and local levels to mobilize quickly and activate a menu of powers that they can use to respond to a crisis situation," according to an article on emergency response plans in The Verge.
Federal governments
State governments
Local governments
What are my human rights during a state of emergency?
States of emergency allow governments to suspend certain civil rights and normal operations, but basic human rights remain. According to a paper on states of emergency from the DCAF – Geneva Centre for Security Sector Governance (PDF, 1.1MB), formerly known as the Geneva Centre for the Democratic Control of Armed Forces, such rights include:
The right to life
Freedom of thought and religion
Freedom from post facto law
The right to recognition before the law
Still, experts questioned whether human rights were being protected internationally during the coronavirus outbreak. Some concerns included:
What are my rights as an employee during a pandemic?
Workers might worry about what to do if their employer tells them to come to work but the state orders them to stay home. What are an employee's legal rights and responsibilities?
Rules on taking leave vary by state and between salaried versus hourly workers.
Employees should know their employer's policy on taking paid or unpaid leave. If an employee has medical needs, the Family and Medical Leave Act provides up to 12 weeks of unpaid leave for those who need to care for personal and family needs. Some employers may offer additional time for medical leave, and some states offer more coverage, too.
Workers' compensation or disability benefits may be available.
This is especially true for people in professions that put them at a higher risk during a crisis. For example, benefits may be available to healthcare workers and essential employees who have a greater risk of exposure to COVID-19.
Employees may have legal recourse if work conditions jeopardize their safety.
The federal Occupational Safety and Health Act (OSHA) prevents employers from firing, disciplining or taking negative action against employees who complain about workplace safety. Employees can refuse to work if they believe imminent danger exists and file OSHA complaints if their employers do not address their concerns.
What are my unemployment rights?
The number of people filing for unemployment insurance in the United States soared this spring as the coronavirus forced people out of work.
"From March 15 to April 18, 26.5 million people have probably been laid off or furloughed," the Washington Post reported in an article on the economy. "The number of jobs lost in that brief span effectively erased all jobs created after the 2008 financial crisis. Jobless figures on this scale haven't been seen since the Great Depression."
There are a number of resources available to support people experiencing unemployment in the wake of the coronavirus outbreak and other emergencies:
U.S. Department of Labor
USA.GOV: Unemployment Help
NOLO
What are my rental rights during a pandemic?
Rental protections vary during disasters, but federal, state and local governments can enact protections to help keep people in housing during emergencies. The federal government took measures to protect renters during the coronavirus outbreak by passing The CARES Act, which provides 120 days of eviction relief for tenants in federally backed housing (PDF, 615KB), as well as rental assistance.
More than half of states enacted protections offering rent relief for tenants during the COVID-19 outbreak. However, many renters still faced eviction, and getting emergency assistance was difficult, Time reported in an article on COVID-19.
The following sites offer resources for renters to learn more about their rights during the coronavirus outbreak and in other emergency scenarios:
NOLO: Renters' & Tenants' Rights
USA.gov: Find Affordable Rental Housing
U.S. Department of Housing and Urban Development:
American Apartment Owners Association: Landlord Tenant Laws
How do situations like pandemics affect custody agreements and parental visitation?
Social distancing guidelines and shelter-in-place orders do not affect custody agreements, so parents should continue following agreements they already have in place.
Parents can request temporary changes if they believe their child's health will be jeopardized by sending their child to another home. Alternatives could include.
Temporarily postponing in-person visits and scheduling make-up visits for a later time
Utilizing video or phone calls
Sending texts, emails and letters to keep in touch
What are my rights if I am incarcerated during a pandemic?
People who are incarcerated may fear for their health during a pandemic.
"Practices urged elsewhere to slow the spread of the virus — avoiding crowds, frequent handwashing, disinfecting clothing — are nearly impossible to carry out inside" correctional facilities, the New York Times reported in an article on COVID-19 in prisons.
During the coronavirus outbreak, some inmates were eligible for home confinement based on specific terms to stem the spread of disease in jails and prisons. The U.S. Attorney General asked the Bureau of Prisons to assess which federal inmates were eligible for home confinement (PDF, 545KB) to protect their health.
Criteria for an incarcerated person's consideration for home confinement included:
Age and vulnerability to COVID-19
Behavior during incarceration
Crime of conviction
Re-entry plan that maximizes public safety and reduces risk
Pandemics like the novel coronavirus not only present health threats to inmates, but they can also present legal challenges and delays. Visitations were suspended at state and federal prisons due to the COVID-19 outbreak, and court operations were also altered, which could cause delays in releases and other legal proceedings.
Glossary of Legal Terms Related to Pandemics
The COVID-19 outbreak introduced individuals and businesses to a range of new legal situations. These 10 legal terms were applicable to the experiences of businesses and individuals during the pandemic.
Act of God: An extraordinary natural event that could not be foreseen or prevented.
Contact tracing: A disease control measure in which public health workers work with patients who have a confirmed or suspected infectious disease to help them recall everyone with whom they came into contact while they might have been contagious. Public health workers must protect the identity of a patient when they inform their contacts they may have been exposed to the disease, according to the CDC. More information is available on the CDC's website.
Force majeure: An unforeseeable, insurmountable event that prevents a party from fulfilling the terms of a contract.
Isolation: An action that separates people with a communicable disease from those who are not sick.
Safer-at-home recommendation: A recommendation imposed by some states and municipalities that encourages people to continue to stay home as much as possible to prevent the spread of disease. Recommendations vary by jurisdiction, but some rules include prohibiting social gatherings, requiring face masks to be worn in public and requiring shoppers to practice social distancing while visiting essential businesses.
Shelter-in-place order: An order during or after an emergency that compels residents to stay inside and limit travel. Provisions of shelter-in-place orders differ by state.
Social distancing: Also known as physical distancing, this practice helps slow the spread of disease by preventing close contact between people. Social distancing guidelines include discouraging large gatherings of people and urging individuals outside the same household to stay at least 6 feet apart from one another.
State of emergency: A declaration that suspends constitutional rights and alters government operations at the city, state or federal level.
Stay-at-home order: Directives aimed at slowing the spread of disease by preventing people from leaving their homes except for essential tasks. Provisions of stay-at-home orders varied by state during the coronavirus outbreak.
Quarantine: An action that separates and restricts the movement of people who were exposed to a contagious disease to see if they become sick.
FAQs from Business Owners During a Pandemic
The novel coronavirus forced the closure of businesses worldwide. Small and medium business owners may have legal questions related to the effects of states of emergency and shutdowns during pandemics and other crises.
Q: What financial assistance is available for businesses experiencing hardships? How can I access it?
A: The U.S. Small Business Administration offers guidance for small business owners experiencing hardship due to the COVID-19 outbreak and information on how to apply.
Q: What if I am unable to uphold my responsibilities in a contract?
A: Pandemics may be considered a "force majeure," an unexpected and overpowering obstacle that may release a party from liability for damages from failure to supply agreed-upon goods or services. Parties can also seek to renegotiate terms of a contract if their circumstances change drastically, though many contracts include clauses with disclaimers about risks of changes in circumstances.
Q: What are my rights as a commercial tenant?
A: Have conversations with your landlord about your financial and business status. Depending on your relationship with your landlord and the terms of your lease, landlords may be able to offer rent deferral, abatement or reduction.
Q: When and how can I reopen my business if it was shut down by government orders?
A: During the COVID-19 pandemic, states are crafting plans to reopen businesses in phases. Follow state guidance on reopening, including implementing protective measures like social distancing to protect customers.
How Can Legal Professionals Prepare During and After a Pandemic?
Paralegals and other legal professionals can turn to these tips as they work to continue effectively serving clients during a pandemic or other lasting emergency. In addition to the steps below, the American Bar Association also offers guidance on ethical responsibilities related to disasters (PDF, 233KB).
Implement tools to serve clients remotely.
Online communication tools such as Zoom, Skype and the Google Suite can help you stay in touch with clients and co-workers while working from home.
Establish policies to protect confidential information.
Legal professionals and paralegals should take measures to safeguard clients' confidentiality while working remotely by implementing best practices for document management, electronic communication and accessing networks. Legal professionals should have a separate workspace in their household to protect client confidentiality during calls and conferences.
Make a plan to prioritize urgent work.
Pandemics and other crises can cause court closures and changes to court operations, causing case backlogs and delays. Creating a plan to stay on top of cases that are continuing and expedite those that have been postponed can help legal professionals stay on track as much as possible as emergency situations unfold.
Create a crisis management team and emergency plan for your workplace.
If your place of work does not already have an emergency preparedness plan, assemble a team to address how your office will handle future crises. Plans can include how to continue operations during temporary closures, remote work policies, and additional cleaning and sanitation services in the event of a public health emergency.
Please note that this article is for informational purposes only. Individuals should consult an authorized legal professional before following any of the information provided.
Citation for this content: OnlineMasterofLegalStudies.com