The GRE, GMAT and LSAT Study Guide for Law Students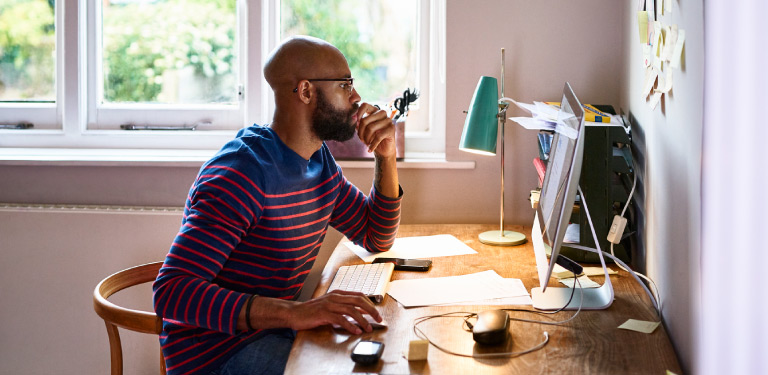 The graduate school testing process can be complicated, especially for undergraduates already navigating the demands of senior year or career-changers juggling their current jobs.
For those pursuing careers in law or legal studies, which test should be prioritized: the GRE, the GMAT, the LSAT or all three? This guide explores each test with notes on how to prepare and what to expect on test day.
Table of Contents
What Is the LSAT?
The Law School Admission Test (LSAT) is a component of law school admission in the United States and Canada, as well as a growing number of other countries. It tests critical reading, analytical reasoning, logical reasoning and persuasive writing skills and is typically not required for admission into master's in law or legal studies programs.
Fast Facts About the LSAT
LSAT Cost: $200 (for Digital LSAT with LSAT Writing)
LSAT Length: Approximately three hours and 30 minutes
LSAT Sections:

Digital LSAT: a multiple-choice exam administered digitally on a tablet, consisting of four scored sections, 35 minutes each, and an unscored section to test new questions or test forms.
LSAT Writing: a written essay administered online that lasts 35 minutes and is not scored but is sent to law schools to which the student applies



LSAT Scores: Scores from the Digital LSAT are sent by email through test-takers' LSAC.org accounts.

Standard wait time is three to four weeks after the test date.
LSAT scores range from 120 to 180.
How to Prepare for the LSAT
To request accommodations on the LSAT, visit the LSAC Policy on Accommodations for Test Takers with Disabilities page.
Top LSAT study programs recommend planning for 150 to 300 hours of test prep.
Choose a study plan and prep materials. With Khan Academy, the LSAT creators offer a free Official LSAT Prep program including a diagnostic test and personalized study plan.
Start with an LSAT practice test to determine your baseline score, strengths and weaknesses. This will help tailor your studies to your areas of growth.
LSAC.org offers two free LSAT practice tests and many more for purchase. While taking all of the available tests is not advisable, most tutors recommend taking full-length tests periodically and practicing with test sections.
If applicable, reach out to pre-law societies at your school for tutors and additional resources.
LSAT at a Glance
Length: 3 hours, 30 minutes
Cost: $200
Format: Computer
Number of Essays: 1
For Whom: Applicants to law schools
Sections:
Digital LSAT — Five Sections
Reading comprehension (1)
Analytical reasoning (1)
Logical reasoning (2)
Unscored (1)
LSAT Writing — One Section
What Is the GMAT?
The Graduate Management Admission Test (GMAT) is part of the process for applying to many business and management schools. Designed to measure test-takers' critical thinking and problem-solving skills, it covers basic arithmetic, algebra, geometry, data analysis and grammar. The GMAT may be required for admission into a master's in law or legal studies program.
Fast Facts About the GMAT
GMAT Cost: $275 in the United States (varies by location)
GMAT Length: Approximately three hours and seven minutes
GMAT Sections: Test-takers choose the order in which they take the four sections:

Analytical Writing Assessment (30 minutes)
Integrated Reasoning (30 minutes)
Quantitative (62 minutes)
Verbal (65 minutes)



GMAT Scores: The GMAT quantitative and verbal sections are scored by an algorithm for a score of 200 to 800. The writing assessment and integrated reasoning section are scored on their own individual scales.

Test-takers receive an unofficial score immediately after completing the test and have the option to keep or cancel the score.
How to Prepare for the GMAT
While each student's needs will differ, the GMAT creators note that those who spend more time studying tend to perform better on the exam. For example, successful business school applicants allowed for three to six months of studying.
Review the unofficial GMAT handbook (PDF, 30.87 MB) for information on how to register and what to expect on test day.
Choose a study plan and prep materials early.
For those with three months to prepare, Kaplan advises mastering test strategies and base knowledge of grammar and math in the first two months. In the third month, work on building speed and increasing difficulty.
Take GMAT practice tests, which are often included with study guides and can also be found online.
If available, reach out to your school's career center for information on tutors and other preparation materials.
What Is the GRE?
The Graduate Record Exam (GRE) from the Educational Testing Service (ETS) is a component of the application process for graduate and professional schools. The test measures test-takers' abilities to think critically and apply their analytical skills to data and text.
There are three types of questions: verbal reasoning, quantitative reasoning, and analytical writing. ETS offers both computer and paper versions. (Paper is offered in places where computer testing is not available).
The GRE may be required for admission into a master's in law or legal studies program.
Fast Facts About the GRE
GRE Cost: $205 for most locations
GRE Length: Approximately three hours and 45 minutes (three hours and 30 minutes for the paper-delivered test)
GRE Sections: There are five scored sections and one unscored or research section:

Analytical Writing (1)
Verbal Reasoning (2)
Quantitative Reasoning (2)
Unscored or Research Section (1)



GRE Scores: Test-takers receive three scores, one for each question category.

Quantitative and Verbal Reasoning Sections: Scored from 130 to 170.
Analytical Writing Section: Scored from 0 to 6.
How to Prepare for the GRE
GRE vs GMAT: What Are the Differences?
GRE
Length: 3 hours, 45 minutes (computer)
3 hours, 30 minutes (paper)
Cost: $205
Format: Computer or paper (depending on location)
Five Sections:
Analytical writing (1)
Verbal reasoning (2)
Quantitative reasoning (2)
Number of Essays: 2
For Whom: Applicants to graduate schools and business schools
GMAT
Length: 3 hours, 30 minutes
Cost: $250
Format: Computer
Four Sections:
Analytical writing (1)
Integrated reasoning (1)
Quantitative reasoning (1)
Verbal (1)
Number of Essays: 1
For Whom: Applicants to business schools
Which Test Should Law Students Take?: GRE vs GMAT
It helps to ask yourself the following questions when deciding which exam to prepare for.
What does the admissions office accept?
First, check the programs you intend to apply to and determine which test(s) the program accepts. If the admission office accepts both the GMAT and the GRE, consider that about 88% of programs indicated that neither test had an advantage over the other in terms of admission. Around 12% reported that the GMAT offered an advantage to applicants.
What are your strengths?
The Economist reports that the quantitative section on the GMAT is considered more challenging than the GRE because of the data sufficiency questions. However, U.S. News & World Report notes that students who prefer logic problems and data interpretation may find the GMAT's math easier.
Additionally, students with a background in literature may perform better on the GRE's verbal section, which is considered more difficult than the GMAT's. A career counselor or adviser can help you consider your strengths and choose the test that will better highlight them.
What are your career goals?
Employers in finance or consulting may consider your GMAT score in the recruitment process. Ask contacts in your desired field if test scores were considered in their job application process.